Welcome to SHFC, President Federico Laxa!
Published on 21 September 2022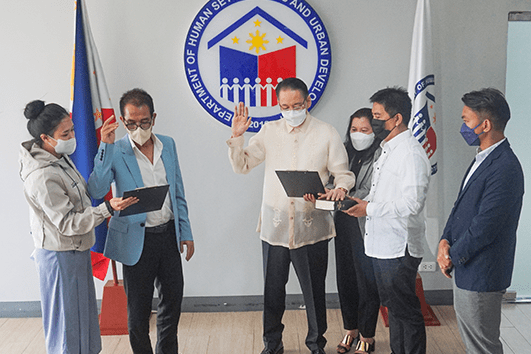 On September 20, SHFC President Federico Laxa formally took his oath of office before DHSUD Secretary Jose Rizalino Acuzar at DHSUD Building, Diliman, Quezon City. The ceremony was attended by SHFC Executive Vice President Atty. Junefe Payot, Senior Vice President for Operations Atty. Ronaldo Saco, Vice President for Mega Manila I Engr. Elsa Juliana Calimlim, Vice President for Mega Manila 2 Jo Banglagan, Vice President for Recovery Projects Annicia Villafuerte, Vice President for Human Resources and Administrative Group Jessica Caraso, and Compliance Officer Atty. Karoline Tordecilla.
SHFC #KaagapayNgKomunidad

SHFC President Federico Laxa formally took his oath of office before DHSUD Secretary
Jose Rizalino Acuzar at DHSUD Building, Diliman, Quezon City
FEATURED VIDEO
QUICK LINKS