Marcos inspects SHFC multistory housing project in San Fernando, Pampanga
Published on 18 July 2023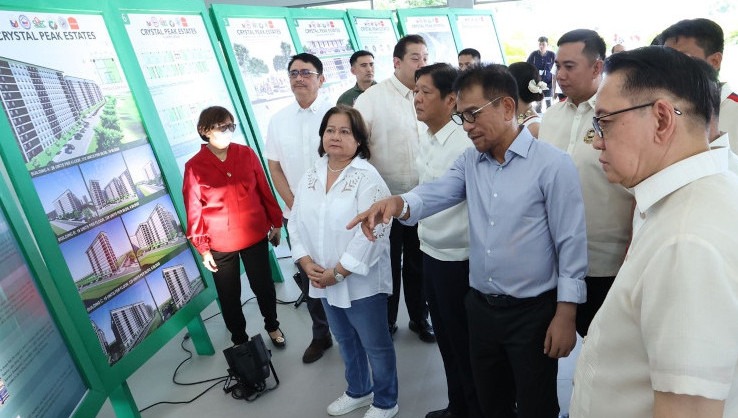 SAN FERNANDO CITY, PAMPANGA – President Ferdinand Marcos, Jr. led the inspection of the first multistory government housing project in San Fernando City, Pampanga on Monday.
The chief executive, along with Department of Human Settlements and Urban Development (DHSUD) Secretary Jose Rizalino Acuzar and Social Housing Finance Corporation (SHFC) President & CEO Federico Laxa assessed the progress of Crystal Peak Estates—a housing development being built by SHFC under the Pambansang Pabahay Para sa Pilipino Housing (4PH) Program. Speaker Ferdinand Martin Romualdez, Senior Deputy Speaker Aurelio Gonzales, Jr., Pampanga Vice Gov. Lilia Pineda, and San Fernando City Mayor Vilma Caluag also joined the inspection.
The 4PH Program, which is President Marcos' flagship housing program, aims to eradicate the 6.5 million housing backlog in the country by 2028. It is expected to generate about 1.7 million jobs annually and drive economic activities across multiple industries, complementing the administration's 8-point socioeconomic agenda, particularly on job creation. SHFC, an attached shelter agency to DHSUD, is the main implementer of the 4PH. "This program aims to build houses near facilities that are needed to have a productive way of life," Marcos said, emphasizing that the 4PH is one of the administration's priorities. "Many Filipino families will surely benefit from these housing projects which are affordable, safe, and will help them live comfortably."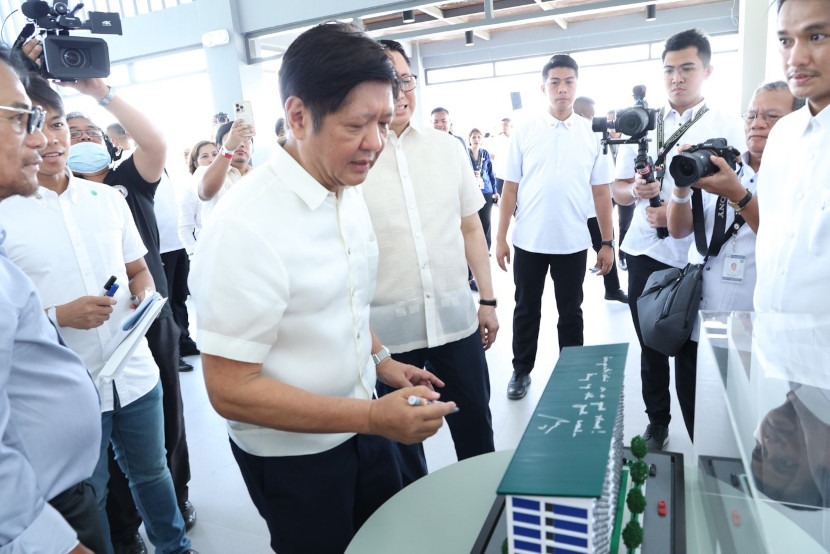 Acuzar thanked the President for this trust and support for the flagship housing initiative. "His confidence in the 4PH Program inspires us to do everything to ensure that all Filipinos will be given access to affordable homes."
In his message, Laxa reaffirms SHFC's unwavering commitment to ensuring the successful implementation of the 4PH Program. "We proudly present today the realization of your dream to provide quality, affordable, and inclusive housing—at scale—to every Filipino family," he said. "Through the 4PH Program, we will provide innovative solutions and collaborate with key stakeholders to tackle the nation's housing backlog."
Strategically located in Barangay Del Carmen, Crystal Peak Estates will consist of twenty-seven buildings spread over nine hectares. It will benefit more than 10,000 public and private sector employees, including overseas Filipino workers and local government personnel, the Department of Education, the Philippine National Police, and the Armed Forces of the Philippines. The project will significantly reduce the huge housing need of San Fernando City and the Province of Pampanga, which are pegged at 11,000 units and 91,000 units, respectively.
The housing development offers a mix of 25- and 28-sqm units to give future residents flexible options tailored to the needs of their families. It will also feature various amenities for social and physical wellness such as clubhouses, basketball courts, and swimming pools. Shophouses or commercial areas will be incorporated on the ground floors, providing livelihood opportunities for unit owners.
Also present were SHFC's top management, including Executive Vice President Atty. Junefe Payot, and Legal, Asset Management, and Partners Cluster Senior Vice President Atty. Leo Deocampo, Program Development and Enhancement Vice President Atty. Maria Rosalie Richa Taguian, and Recovery Projects Department Vice President Annicia Villafuerte. As part of the 4PH Program, SHFC's participation includes seven in-city vertical housing projects across the country, comprising approximately 60,000 units. Apart from Crystal Peak Estates, two other 4PH projects of SHFC—Valley View Townships in Tagoloan, Misamis Oriental, and People's Ville Homeowners' Association, Inc. Phases 1-3 in Davao City—have commenced construction.
FEATURED VIDEO
QUICK LINKS