SHFC STARTS CONSTRUCTION OF HOUSES FOR OVER 100 MARAWI FAMILIES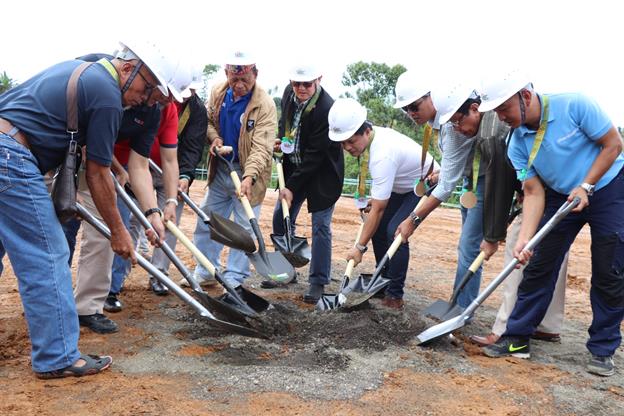 Social Housing Finance Corporation (SHFC) officially started the construction work on houses for 101 families displaced by the Marawi siege on October 17, coinciding with the second anniversary of the liberation of the city. Kicking off the development was a groundbreaking ceremony in a 1.8-hectare site in Barangay West Dulay, one of the two properties acquired by SHFC in January to jump-start the "Rebuilding Marawi City through Community-driven Shelter and Livelihood Support" initiative.
SHFC President Atty. Arnolfo Ricardo Cabling led the groundbreaking and capsule-laying ceremony, along with Department of Human Settlements and Urban Development Secretary Eduardo del Rosario, Lanao del Sur Governor Mamintal Alonto Adiong, Jr., Marawi Mayor Majul Gandamra, UN-Habitat Country Programme Manager Christopher Rollo, and members of SHFC Board of Directors and the Project Steering Committee.
Beneficiaries of the project are the 1,500 Internally Displaced Persons (IDPs) living along the three meter easement of the Agus River and Lake Lanao who formed themselves into homeowners associations. Initially, members from the Saduc Riverside Homeowners Association, Inc. (HOAI) and Agus Malangas HOAI will benefit from this initiative under the Marawi Shelter Project. With emphasis on the People's Process approach, they have actively participated in site selection, house design, and house construction.
Atty. Cabling assures IDPs that SHFC and the national government will continue to support them. "It has been two years since the liberation of Marawi and the government reaffirms its commitment to its rehabilitation," he said. "We encountered problems but finally we are here as we remember and commemorate the liberation of the city." Atty. Cabling also vowed to speed up the completion of the project and guaranteed that the design and structural integrity of the houses will be built according to their needs.
In February, SHFC held a groundbreaking ceremony in Dulay Proper, another area where a total of 800 permanent houses of internally displaced persons will be built on.
SHFC and UN-Habitat signed a memorandum of agreement in May 2018 for a shelter project in Marawi which includes livelihood and community infrastructure support for the beneficiaries. The government of Japan has extended P500 million to fund other components of the project.
FEATURED VIDEO
QUICK LINKS