900 QUAKE-HIT KIDAPAWAN FAMILIES GET SHFC RELIEF AID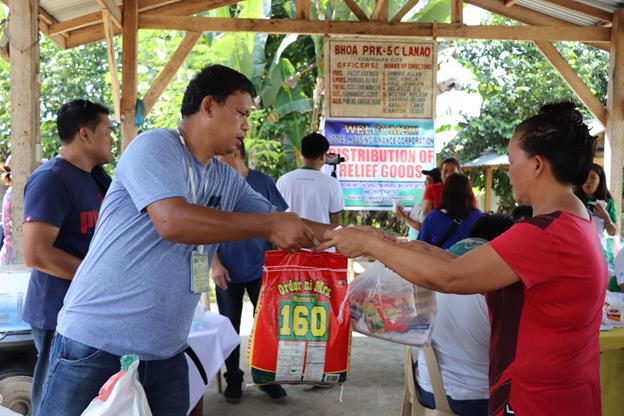 On December 7, Social Housing Finance Corporation (SHFC) delivered relief goods to more than 900 families in Kidapawan City, Cotabato who were affected by the recent earthquakes that rocked Mindanao. The humanitarian drive was led by Annicia Villafuerte, Vice President for Recovery Projects Department, which was created to enable the agency to respond quickly to the needs of communities displaced by disasters.
"Our hearts are full knowing that this will come a long way for the communities that we support, especially now that Christmas is just around the corner," said Villafuerte, who is also heading SHFC's housing initiatives for families left homeless by the Marawi conflict in 2017. "We are very thankful that our effort to provide assistance to the earthquake victims was very successful."
The 923 beneficiaries of the relief operations, simultaneously held in barangays Singao, Poblacion, Magsaysay, and Lanao, are members of five communities that are under SHFC's Community Mortgage Program (CMP) namely: Upper Singao, A. Delima, Amurao, Llanderal, and Belarmino homeowners associations. In addition to blankets and tents, the families received rice, water, and groceries to support their daily needs while they try to get their lives back to normal.
"Maraming salamat po sa SHFC sa natanggap naming tulong," said 67-year-old Norma Sererazo, who spent several days in a makeshift tent in the aftermath of the earthquake. "Malaking bagay po ito sa amin at sa mga kasamahan ko dito sa Llanderal."
CMP, the flagship program of SHFC, has granted about P15 billion in loan assistance and has funded the forging of more than 2,700 empowered communities since its inception in 1988.
FEATURED VIDEO
QUICK LINKS