SHFC INKS SOCIALIZED HOUSING DEAL WITH MAGALANG, PAMPANGA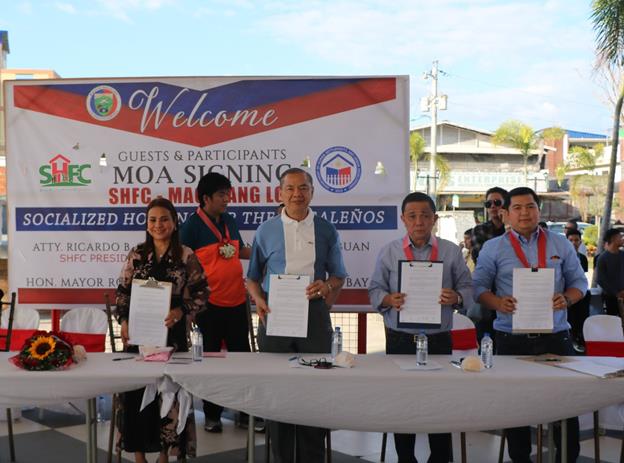 On January 23, Social Housing Finance Corporation (SHFC), the lead government agency tasked to undertake socialized housing for low-income earners, entered into a partnership with the local government of Magalang, Pampanga for the provision of affordable and quality shelter for underprivileged families in the municipality.
The memorandum of understanding (MOU) was signed by SHFC President Atty. Arnolfo Ricardo Cabling and Mayor Romulo Pecson in a ceremony held at the Magalang Municipal Hall, with Department of Human Settlements and Urban Development Asec. Leira Buan and SHFC Pampanga Branch OIC-Manager Prandy Vergara witnessing the event.
In his speech, Atty. Cabling noted that SHFC has been working closely with local government units to ensure that the agency's shelter initiatives are tailored to local needs and speedily implemented. "I hope that with this partnership, we can promptly address the housing issues of Magalang," he said.
The signing of the MOU coincided with the 16th founding anniversary of SHFC, which is launching new schemes, including the socialized interest rates and the 12 Community Mortgage Program (CMP) modalities, which will help more poor families realize their dreams of owning a home.
The CMP, SHFC's flagship program, has benefited more than 350,000 families through over P16 billion in loan assistance since its inception in 1988. It aims to improve the lives of informal settler families by providing them affordable financing in which they can borrow as a community to buy the land they occupy or would like to relocate to.
FEATURED VIDEO
QUICK LINKS