SHFC FLOATING P2 BILLION BONDS TO FUND HOUSING PROJECTS FOR POOR FAMILIES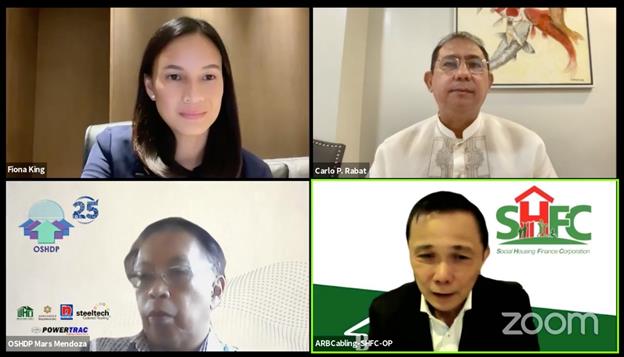 Community Mortgage BALAI Asset-Backed Securities (CMP BALAI ABS) for a portion of its loan portfolio. It will involve the issuance of about P2 billion, which will be used to finance the agency's housing projects for low-income families.
"We need to be creative in generating funds considering the limited budget allocated by the national government for housing," SHFC President Atty. Arnolfo Ricardo Cabling said during the "Housing Talks" forum initiated by the Organization of Socialized and Economic Housing Developers, Inc. (OSHDP) on June 22. The online event also featured National Home Mortgage Finance Corporation (NHMFC) President Carlo Luis Rabat.
"We really need the help of the private sector, particularly members of the OSHDP, in reducing homelessness in the country," said Cabling, noting that the housing backlog is currently about 6.5 million units and the number is increasing by roughly 100,000 every year.
Cabling said the bonds will be issued to at least three but not more than 19 real estate developers. The target date of issuance will be in August, coinciding with the 33rd anniversary of the CMP.
"This is a low-risk investment and a convenient and cheaper form of compliance with the Balanced Housing Act," he said. Cabling explained that the purchase of the ABS does not involve the risks, costs, and efforts required in the actual construction of socialized projects or the creation of escrow accounts.
The Department of Human Settlements and Urban Development has issued an order stating that the purchase of ABS issued by SHFC or NHMFC for raising funds for socialized housing projects is deemed as full compliance of developers to the Balanced Housing Development Program. The revised Section 18 of Republic Act 10884 requires property developers to build socialized housing equivalent to at least 15 percent of their total subdivision area or total cost and at least 5 percent of a condominium area or project cost.
"This initiative will be a give-and-take relationship between SHFC and the private sectors," Cabling stressed. "We hope that this will be the beginning of a new and stronger partnership with developers in addressing the housing needs."
SHFC's partners in this undertaking are NHMFC (transaction advisor), Landbank of the Philippines (program arranger) Pricewaterhouse Coopers (portfolio auditor), and Puyat Jacinto & Santos (tax and legal counsel). The Philippine National Bank, Philippine Rating Service Corp., and Development Bank of the Philippines serve as the trustee, rating agency, and special purpose trust, respectively.
SHFC primarily assists underprivileged communities in securing land tenure through Flexible, Affordable, Innovative, and Responsive (FAIR) shelter financing and development solutions by Building Adequate, Livable, Affordable, and Inclusive (BALAI) Filipino communities. To date, SHFC has provided secured homes to more than 422,000 informal settler families through its community-driven programs.
FEATURED VIDEO
QUICK LINKS