SHFC, DAP unite for quality excellence
Published on 10 August 2023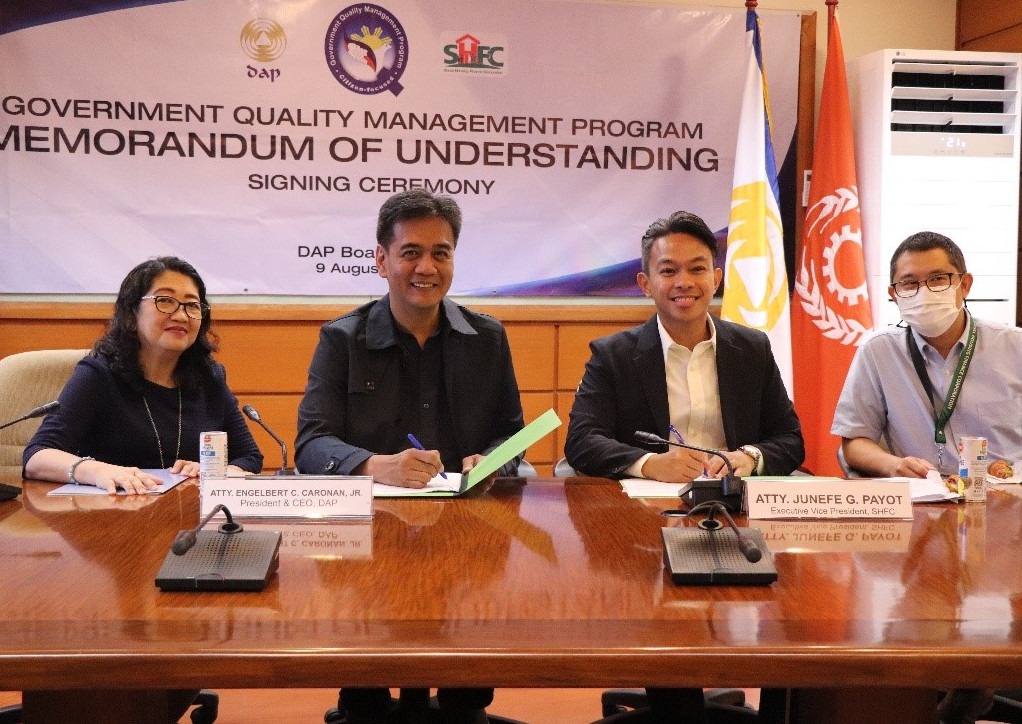 The Social Housing Finance Corporation (SHFC) and the Development Academy of the Philippines (DAP) joined forces through a memorandum of understanding that will pave the way for the academic institution to provide vital technical assistance to SHFC through the Capability-Building Intervention on Quality Management System.
SHFC Executive Vice President Atty. Junefe Payot and DAP President Atty. Engelbert Caronan, Jr. inked the agreement in a ceremony held at the DAP Board Room in Pasig City on August 9. The signing was witnessed by SHFC Legal Affairs, Asset Management, Partners, and Human Resources Senior Vice President Atty. Leo Deocampo and DAP Productivity and Development Center Director Ma. Theresa Agustin.
The grant has been awarded to SHFC through the Government Quality Management Program (GQMP), a national government-funded initiative that promotes quality improvement in the public sector.
Caronan congratulated SHFC for being selected as one of the GQMP recipient agencies and affirmed DAP's support to help the agency improve its capability to enhance its quality management system.
For his part, Payot expressed optimism about the overall impact of this undertaking on the corporation, emphasizing that it aligns with the larger goal of enhancing SHFC's services in delivering housing programs to its beneficiaries.
"We are very grateful for this grant given the challenge of providing 1 million homes every year for the next six years," he said. "For us to deliver this huge number, we need to ensure that our management systems are very efficient." SHFC is the main implementer of President Ferdinand Marcos, Jr.'s Pambansang Pabahay Para sa Pilipino Housing (4PH) Program, which seeks to address the country's 6.5 million housing backlog.
FEATURED VIDEO
QUICK LINKS