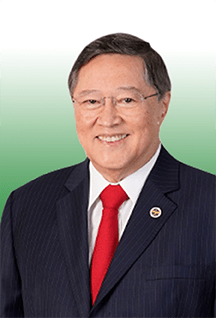 SEC. CARLOS DOMINGUEZ
Ex Officio Member of SHFC Board
Department of Finance
Carlos "Sonny" Dominguez earned his Master's Degree in Business Administration from Ateneo De Manila University and also attended the Executive Management Program at the Stanford University.
He has over 40 years of experience managing various organizations in the Public and Private Sectors. He was a shareholder, and board chairman or member of over a dozen corporations across various industries such as power, agriculture, mining, banking, hospitality, real estate, and investment.
Notable positions held by Sonny were Cabinet Secretary of the Environment and Natural Resources and Agriculture during the Presidency of Corazon Aquino, past president of leading Philippine Corporations such as the Philippine Airlines and the Philippine Associate Smelting and Refining Corporation, and the former Bank of the Philippine Islands Agricultura Bank.
FEATURED VIDEO
QUICK LINKS