For Lucena Mom, Getting Own Title A Positive Thing Out of Pandemic
By Allan Leandro DA. Merin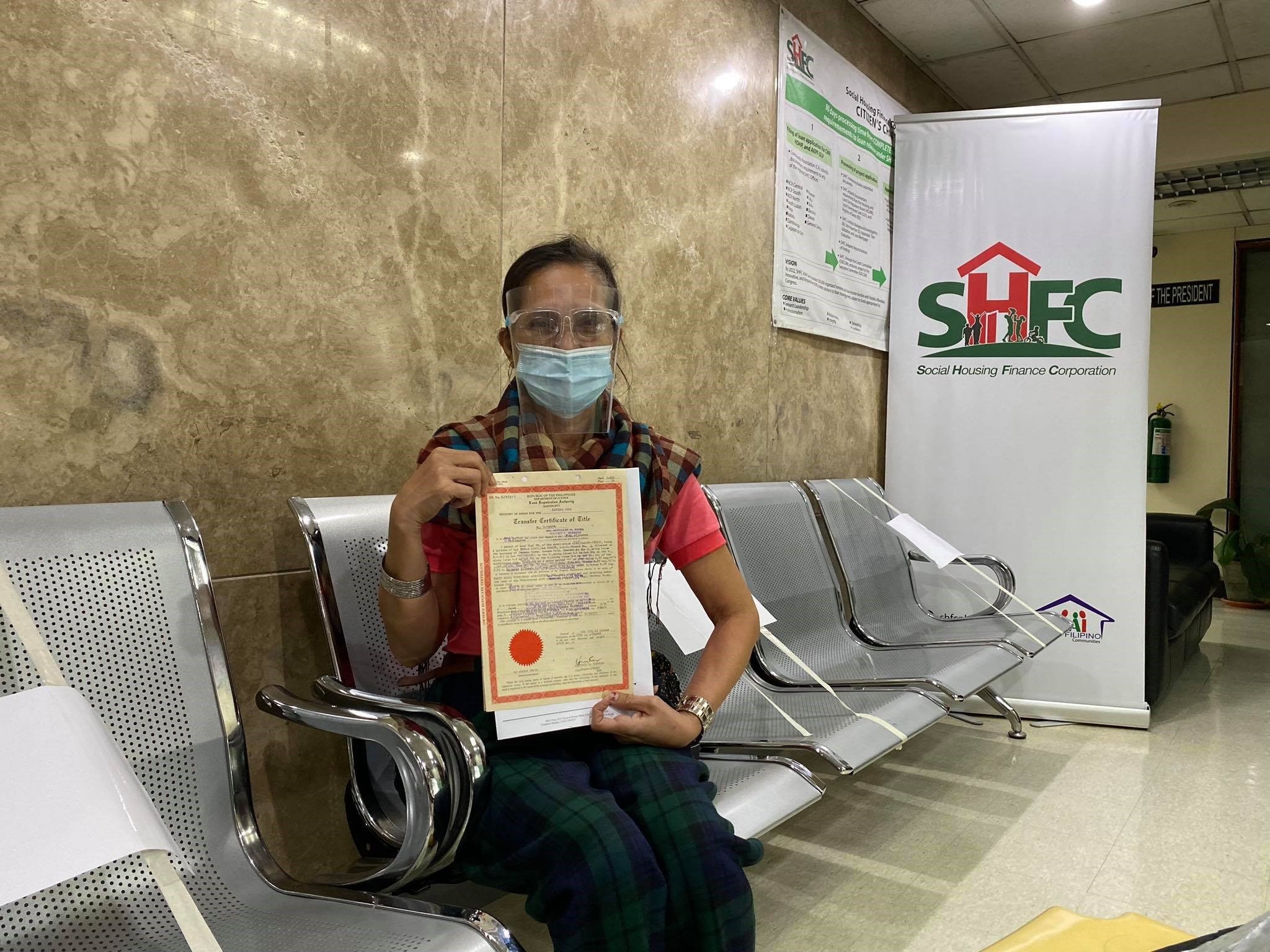 Losing a loved one is never easy, particularly for a parent who buried a child. Back in 2010, Mary Anne Anat was a grieving mother struggling to comprehend the sudden death of his son. What started as a sense of loss for the 57-year-old turned into a passion of keeping her son's memory alive by fulfilling his dreams of having his own land. A decade later, she is finally living that dream.
"Masaya ako ngayon kasi sa wakas ay natanggap ko na itong titulo. Natupad na 'yung pangarap ng anak ko," Mary Annsaid after personally receiving her title at SHFC's head office in Makati.
The title is the fruition of her efforts to religiously pay the monthly amortization for the loan under the Community Mortgage Program (CMP) that she assumed after the passing of her son, the original member of Kapit-Bisig Homeowners' Association, Inc. (HOAI) in Lucena City, Quezon.
Mary Anne admitted that she was the one who were asked to originally join the association, but she had little interest in the project because the area in Barangay Ibabang Dupay was blighted. Instead, she encouraged her late son to be a member since he was about to start a family at that time. Several years after her son died in a vehicle accident, Mary Anne became the substitute member. "Tiniyaga ko ang process sa pag-submit ng papeles at pagbabayad, lalo na nung nakita ko na nagkakaroon na ng value 'yung lupa dahil dumami na ang tao at business doon," she shared.
Clutching the title in her hands, the mother of five said that finally being a landowner is something reassuringly satisfying, especially now in the times of uncertainty. She shared that she had been looking forward for this moment since last year but the title awarding was delayed due to the COVID-19 pandemic. Mary Anne didn't mind the wait as the timing has never been more perfect. "Kahit may COVID, may magandang nangyari sa pamilya namin ngayong taon. Napaka-importante na may sariling lupa ka, lalo na sa panahon ngayon."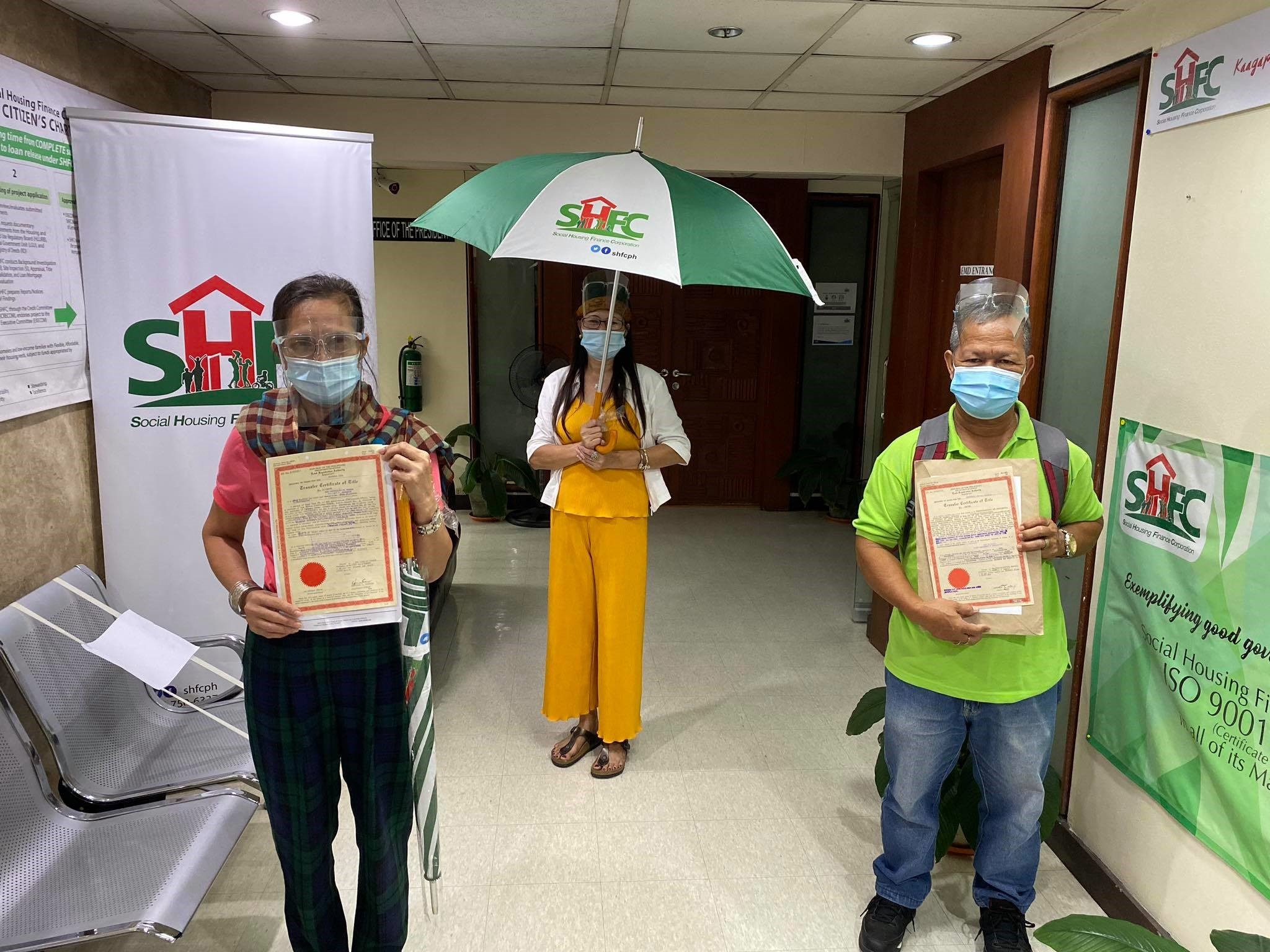 With no stable income, Mary Ann, a seamstress and a part-time broker, said having her own title is the first step toward ending the burden of renting. Right now, her family is renting a house for P5,500 monthly. But with the pandemic affecting the earnings of her civil engineer husband, it is now hard for the couple to save money for the lease. Compounding the situation was that one of her children, an overseas worker, lost her job due to the virus crisis.
"Napakahirap mangupahan ngayon," she lamented. Now that she received her title, she can't wait to build her own house. "Paunti-unti ay papatayuan namin ng bahay ang lupa na ito," she said, feeling excited to the day that she will stop renting. "Pag hindi na kami uupa, may pangdagdag na kami sa pambili ng pagkain at tricycle pangdagdag kita."
For Mary Anne, there are still many things to be grateful for despite the hardship brought by the pandemic, such as getting her own title. Before going back to Lucena City, she bared that she will make one more stop—a visit at the National Shrine of Saint Padre Pio in Santo Tomas, Batangas to say a little prayer of thanks. The face mask hid her smiles, but the creases around her eyes gave them away. "Maraming salamat sa SHFC sa pagkakataong ito. Napakaganda ng inyong patakaran para sa mga mahihirap," she said.

Kapit-Bisig HOAI is composed of 126 partner-homeowners with a total loan amount of P7.8 million.
FEATURED VIDEO
QUICK LINKS