BAYANIHAN HOAI EXEMPLIFIES COMMUNITY SPIRIT DURING COVID-19 CRISIS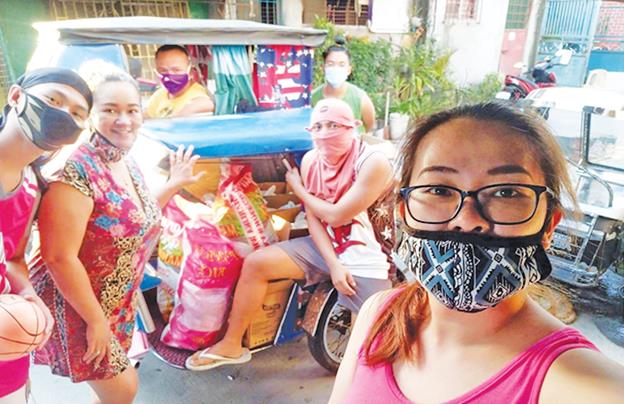 As the country grapples with the COVID-19 pandemic, Bayanihan Homeowners Association, Inc. (HOAI), a community in Salinas I, Bacoor, Cavite, aptly embodied the essence of the famous Filipino trait of communal unity. Showing collaborative effort, the officers took the lead in devising preventive measures against the disease while members demonstrated enhanced cooperation to implement the strategies successfully.
The virus crisis took its toll on the health and socio-economic well-being of the 109-member association. With the lockdown restricting mobility and transportation, some partner-homeowners were not able to go to hospitals for their checkups and medication needs. Others lost their jobs either permanently or temporarily, while several entrepreneurs saw their profits drop.
These difficult circumstances, however, brought out the bayanihan spirit in the community, which was manifested in various acts of kindness and generosity. According to Ruelito Garcia, the HOAI president, some of their members donated relief packs for their disadvantaged counterparts. Several individuals volunteered to guard the checkpoints set up in their village while others offered to buy food and medicines despite the long queues in groceries and local markets in the area. "Mas masarap kasing tumulong kesa ang tulungan ka, ika nga," said Garcia, who also
Garcia also did his share of helping, with the 43-year-old leader spending from his own to buy milk and other food staples for his members. He also sought help from his family and well-to-do friends to contribute to their cause. inspired his fellow officers to do the same.
Bayanihan HOAI treasurer Elizabeth Palmero and her sister, who was left stranded in the area due to the lockdown, distributed canned goods and instant coffee for the community. "Kahit sa maliit na paraan ay nakatulong kami upang mapagaan ang dinaranas ng aming mga kasamahan dito," she said. Palmero added that they would continue to help their members to make sure that they survive these uncertain times.
When the barangay where the association is located recorded its first positive case, the bayanihan spirit burned even brighter in the community. Bottles of alcohol purchased from their funds were distributed to every household, and roads and alleys were frequently disinfected. Officers and volunteers took turns in checking entry and exit points, and the imposition of stay-at-home orders and curfew hours was strictly enforced. These measures proved effective in preventing anyone in the association from contracting the virus.
As the community is still COVID-free, the only things that remain contagious at Bayanihan HOAI are the communal unity and solidarity of officers and members to face and overcome adversity.
Grateful for loan moratorium
The entire Bayanihan HOAI expressed its gratitude to SHFC for the implementation of the three-month moratorium on loan amortizations, saying the payment freeze unburdened them financially and allowed them to save their resources for more immediate needs.
"Napakalaki po ng naitulong nito sa aming mga miyembro bilang konsiderasyon sa mga ganitong panahon lalo't marami po ang walang hanapbuhay at walang kakayanang magbayad," Garcia said. "Kami ng aking mga officers at members ay taos-pusong nagpapasalamat sa SHFC. Mabuhay po kayo!"
For Palmero, the moratorium was such a big help to the community in easing the emotional and psychological impacts of COVID-19. "Napakaganda po ng tulong na ibinigay ng SHFC upang di mai-stress ang mga miyembro para isipin na magkakaroon sila ng penalties kapag hindi nakabayad," she said. "Kaya nagpa-pasalamat kami ng marami."
Bayanihan HOAI was established in 1999 under the leadership of its first president, Bong Nolasco. Through the efforts of the current set of officers, the association saw its collection efficiency rating jump from 25 percent in 2009 to 159.22 percent as of October 2019, one of the highest in the entire Cavite area. Almost 70 percent of its members have fully paid their accounts with SHFC.
FEATURED VIDEO
QUICK LINKS